Who is Driving the Boat? Sean and Alaina: A Special Needs Plan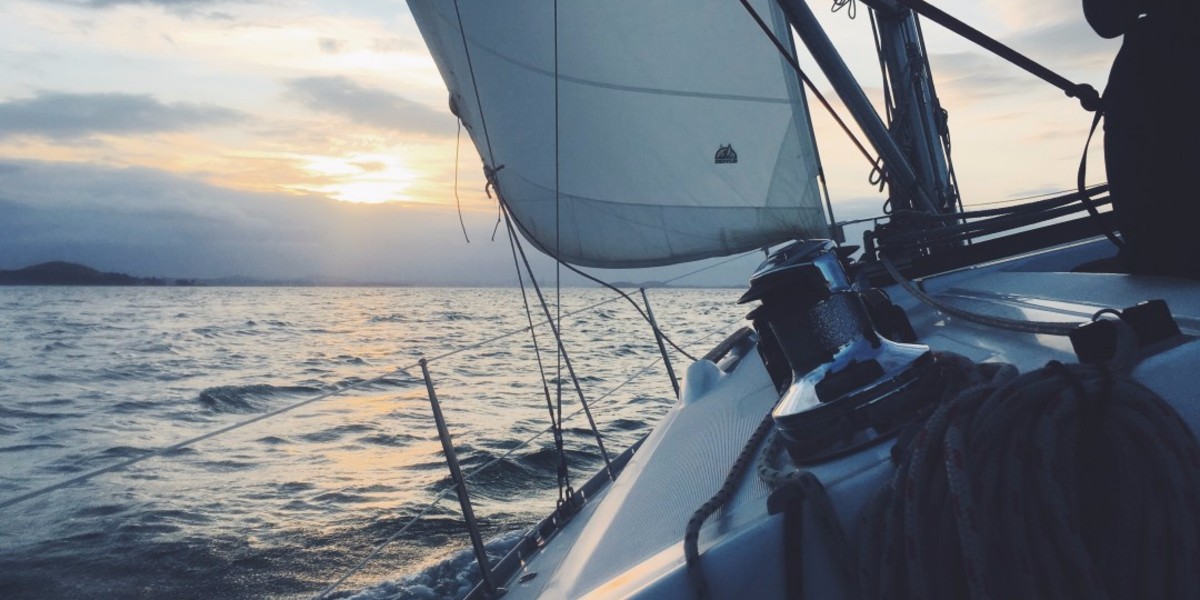 I love the water.
The ocean waves and quiet fishing on the bay. My wife and I moved our family from the bustle of a larger city to a less grid locked city near the beach when our two boys were still in their early elementary school years. We love the feel of a small beach town where everyone is a neighbor, and people don't hesitate to lend a helping hand. We felt like this would be better for our boys than the high intensity, rapid pulse of a big city.
Both of our two boys, now teenagers, have been diagnosed with Autism Spectrum Disorder. They have sound aversions, and our youngest often asks to wear headphones. There is some intense food selectivity with both boys as well. Our oldest son has language, but as the diagnosis dictates, he can't often use it purposefully or to successfully interact socially. Our younger son struggles more with language, but we are grateful that he can request the basic things that he wants or needs. Not a lot of chit-chat happening there, but the necessities will get verbalized, thankfully.
My wife, Crissie, and I hear a lot about the high divorce rate among parents that care for children with special needs. While we are doing well and maintaining what we believe to be a pretty healthy relationship, it certainly isn't easy. I can see how things can fall apart. The demands, physically and emotionally, are high and we are often left in a tired heap by the end of the day. Finding time for ourselves and for our marriage sometimes feels impossible.
While navigating this winding road of raising these two very special boys we have experienced something that I know is a common thread among parents in our particular situation.
We rarely, if ever, put ourselves first.
I would love to take my boys fishing. They don't like it. Too slow and too many stops. They get frustrated with the slow pace that fishing requires. They prefer to go as fast as we can and joyride. So, I suppose you can guess what I would end up doing. Yep. No fishing for dad, and turbo boost speed. Somehow their diagnosis would creep into my mind; all of their struggles and defeats, and I would cave. "Just give them this. This will make them happy. They go through so much every day. Here."
What Crissie and I slowly realized is that we were no longer in charge. At all. We, as a team, always put our boys first. Before friends, hobbies, or each other. It was an unspoken agreement that we both just held on to. As you can expect, this began to slowly chip away at us physically and emotionally. Until we finally had to do some reflection we were forced to pose an important question to each other:
"Who is driving this boat, anyway?"
We all know the airplane safety drill. Put your own oxygen mask on first before you put on your child's mask. Why? Because if you are passed out on the floor, you can't help anyone! It makes all the sense in the world, so why is it so hard for parents to take on this mentality.
Bottom line. You have to take care of yourself, or you cannot help your children.
Enough about my story. I want to tell you about another family.
Sean*, 33, and Alaina*, 30, are the kind of couple you want to hang out with.  They love to talk about art and culture and always seem to have an interesting story to share. They met in their twenties, got married, and had their beautiful boy, Patrick*, who is five years old. Both Sean and Alaina worked relatively demanding jobs; Sean as a consultant in the pharmaceutical industry and Alaina as a paralegal for a top-notch law firm.
They both had planned on working after Patrick was born, but as it turned out, Patrick needed some extra care. Patrick* was diagnosed with Autism Spectrum Disorder and Sensory Processing Disorder when he was 2, though Alaina is quick to say that her gut told her much earlier than this. Sean has a good income that was enough for Alaina to stay home with Patrick and take care of the day to day demands of his care, which included daily trips to therapy, medication refills, researching alternative treatments, and all the other tasks that went along with running their household.
They also decided to trade in the smaller urban townhome for a larger home in a smaller town in the suburbs. (Sound familiar?) Closer to some of Patrick's therapies, but a somewhat longer commute for Sean.
They were getting by but flustered by the day to day push on time and energy and, most paramount in their words, was the worry they had for Patrick. This is what kept them up at night. Like I hear from so many families, and as I remember myself, families going through the early days of diagnosis for their child are on auto pilot. They are numb and simply doing what they need to do to survive and care for their child. Nothing more. Sean and Alaina didn't think that they had the time or energy to plan past tomorrow for Patrick. Additionally, their plans for enjoying the life they were currently living and for their retirement had been put on hold.
They simply felt as if Patrick came first and everything after that would just have to wait. They were not driving the boat in their life. They were simply existing day by day and hoping for the best.
This was when they decided to call me. 
Like so many families raising children with special needs, Sean and Alaina didn't know exactly where to start. They knew they needed a plan and had an idea of the kind of end game that they wanted for themselves and Patrick, but how to get from A to B was another story.
We started with discussions about what was causing the most immediate stress and strain for them. What was in their "trauma room," so to speak. Alaina said she felt like she had lost her sense of control over their finances. She expressed that since she was at home with Patrick and no longer bringing home a paycheck that she had developed a fear of overspending. Sean, on the other hand, admitted that he had been a bit more careless with his spending. He stated that with all the stress at work and with the emotional ups and downs of Patrick's diagnosis, he had been indulging in some purchases. A new golf club. Eating out too often. Sean said he felt guilty about the purchases, especially since Alaina had become so dollar conscious, but that he still felt like he needed the stress relievers here and there.
What they both agreed on was that they needed a budget. Alaina said the budget would keep her from living on the shoestring that she had put herself on which she admitted was causing undue stress and depriving her of the joys she used to partake in such as the occasional yoga class or shopping for a new outfit. Sean said he was aware that the budget would help to keep him on track by becoming more aware of his spending.
So we took a look at what going in and out of their accounts and what the specific expenditures were. I wanted to make sure that the necessities were covered but that they also considered their quality of life. What were their values?
What was important to them when defining a full and enjoyable life. We had to make sure that Patrick's needs and expenses were covered as well as the basics of their home and transportation. Patrick qualified for a Medicaid waiver in their state, which allowed him to receive much of his health expenses at no cost regardless of Alaina and Sean's income level. It was more difficult, however, to get his therapies covered by the waiver, so this did require consideration in budgeting. We also took into consideration 401K contributions at Sean job and setting up a ROTH IRA for them as well. After looking at the numbers and taking care of the "musts" in their budget, they were happy to see that there was, in fact, some funds left over for leisure expenditures.
For Alaina, this was a relief as she had not had the time or energy to assess what they could spend on these extras, so she simply didn't spend at all. Alaina decided that with the extra amount that they had left over from their monthly budget, she would sign up for a bi-weekly massage and a babysitter during the day so she could meet a friend for lunch or an exercise class once a week. Sean was happy to see that he could still play golf a couple of times a month and indulge in some good food from time to time.
Plus, I set them up with an app that they could install on their phones that made their budgeting more of a game between the two of them. It became something easy and fun to do, which meant that they were less likely to fall off the path with their goals.
Alaina and Sean did not have enough insurance. Sean had a life insurance policy through work, but it was the bare minimum that they allowed at no cost. They had concluded that since they were relatively young and in good health, that paying out for life insurance would be a waste of money. We discussed what plans they had in place for Patrick in the event of their passing.
This is where things got emotional in our discussions. They both agreed that this is what kept them up at night. One such instrument that many parents of children with special needs use to plan for their child's financial future is a Special Needs Trust (SNT). The SNT was an excellent tool for Alaina and Sean to adopt since they needed a structured plan to leave money for the care of Patrick when they were no longer here, but also to make sure that this money was not going to disqualify Patrick from government benefits that he would be entitled to otherwise.
Funds in the trust do not count towards the asset limits used for qualification for these benefits. Additionally, since they did not have a lot of funds to put in the trust for Patrick at the time that we began our process, we discussed using an insurance policy to fund the trust. Upon the death of both parents, funds would pass directly to Patrick's SNT for the use of his care.
Retirement was another area of worry for both Sean and Alaina. They both had money put away in their 401K's and had more than not contributed the max amounts, but they still felt as if they did not have enough money to live the kind of life that they wanted to when they reached their retirement years.
A large part of this concern came when they were considering what they may need set aside to care for Patrick. They assumed Patrick would most likely live with them as an adult, but they realized that maintaining his care after both were no longer receiving an income aside from Social Security would require additional savings. What they were not aware of, however, is that Patrick could use some of the funds that belong to Patrick's SNT before their passing for Patrick's care.
Also, Patrick could receive SSDI child benefits upon Alaina and Sean's retirement since Patrick was diagnosed with a chronic condition before the age of 22. We looked at the numbers and came up with a percentage of savings allotted to retirement funds that considered the family's current budget and projected needs.
In the end, the couple felt as if they had a solid plan for their retirement and didn't feel as if they were giving up any current quality of life.
When working on a financial plan with a family that has a member with special needs, it's nearly impossible to exclude a basic life plan. This will certainly include the financial plan, but the various branches of the financial plan will flow over into other areas of their lives as well. For example, when Sean and Alaina decided to draft their will, they had to decide who would care for Patrick if something were to happen to them.
They had a loose verbal agreement with Alaina's sister, Karen, to take care of Patrick if they were no longer able, but nothing is written and solidified. When asked if Karen would be willing to manage the finances related to Patrick's care, however, she didn't feel comfortable doing so.
We needed to make sure that there was someone, willing and able, to serve this role for Patrick. We needed to discuss not just the finances of Patrick's care, but the logistics as well. It all overlaps and requires a cohesive view to be delivered successfully.
We discussed creating a Letter of Intent (LOI) which is a comprehensive explanation of the things that Patrick needs day to day—things such as the food he eats to the hobbies he has. When complete, it's intended purpose is to serve as a comprehensive "guide" for taking care of Patrick. We use SpecialVest, an online tool for organizing and sharing the LOI.
This provided Sean and Alaina with a great deal of relief since they realized just how much care Patrick needed and how much information someone would need to care for him properly is something were to suddenly happen to either of them.  The LOI is a good base to attach all important documents such as insurance and trusts.
Sean and Alaina want what so many parents of children that have special needs want. They are wonderful, loving, and caring parents to Patrick. But they were tired of feeling as if they were not steering their destiny, not driving their boat. Patrick was driving. Every bit of energy and focus revolved around Patrick, and as a result, they had lost control of their own lives and were not able to think about what tomorrow would bring. They wanted to find peace in the life they are living and to feel as if they had some sense of control. That sense of control came with creating a plan that allowed for a full and enjoyable life for themselves and Patrick. They are now taking the time to think about their quality of life and their own retirement. In turn, this has given them the calm and focus to plan for Patrick's needs as well.
I look forward to working with this amazing family for a long time and seeing their hopes and dreams come to fruition.
As for my boys and I, I've learned to push myself to remember that my happiness is their happiness as well. We can't forget to take care of ourselves, or we can't take care of those we love. If I'm taking care of myself, then I am keeping my tank full, ready to care for my boys and my wife. So we go fast. AND we fish. We set a precedent for taking care of each other, and that is where the magic happens.
And it is magic.
Have a question or would you like to schedule a chat? 
Schedule your Complimentary Call Today.
*Names were changed for anonymity.